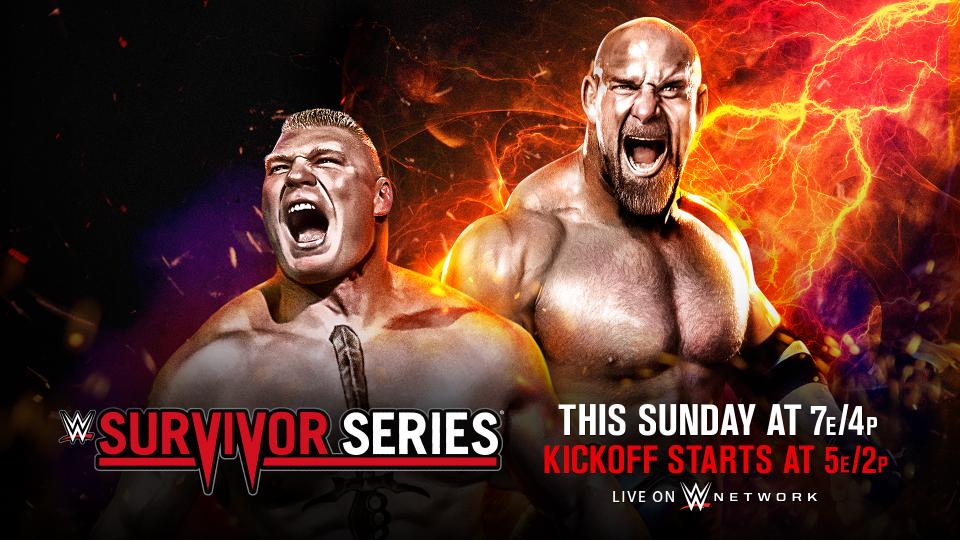 Survivor Series – 12 hours later
The final 'big 4' PPV of the year is in the bag and Survivor Series definitely delivered, even if that delivery wasn't exactly what you were expecting.
The whole weekend kicked off superbly with another excellent NXT: Takeover in Toronto. From Roode's (literally) Glorious entrance to the stunning two-out-of-three falls tag title match with #DIY and The Revival, the card was stacked and superb. Mickie James looked like she hadn't been away from WWE and proved she could hang with Asuka – who is going to be huge on the main roster. The main event was incredible too and the Chimera-plex stunning. Nakamura/Joe 3? Lets wait and see.
Onto Survivor Series itself and the expectation of "fantasy warfare becoming reality" may have overridden some core elements. The Survivor Series of old with their traditional tag team elimination were actually built around grudges. It may have only been the captains of each team feuding, but at least there was a grudge. Here we have teams thrown together to defend the honour of their 'brand' – which they've only had allegiance to for a few months. The superstars wearing the t-shirts of their brand was a bit weird. At least some of those who shouldn't have worn them didn't. Why would Bray Wyatt even care about brand loyalty? He should be wearing a Bray Wyatt tee, because its all about the family. Same with Rollins, who did a halfway house. He's antiestablishment, why does he care about a brand t-shirt?
Onto the matches themselves. The womens match kicking off the show had it all. Great action, bad acting, stupid eliminations and more. Nikki Bella, you may be fearless, but please fear your acting coach as they're going to shout at you after that performance. "owwww my neck hurts soooo bad". Nia Jax was clearly placed as the dominant member of team Raw, swatting all five of the Smackdown ladies aside… and then tapping to a weak looking Dis-armer from Becky. Ok. Alexa Bliss has really impressed recently and continued to do so here. Charlotte & Bayley are always amazing and Sasha was good too. The post-match beatdown looked brutal, but lacked a reaction from the live crowd. Bayley v Charlotte at the Rumble? Yes please.
The Intercontinental title match between Zayn and Miz exceeded expectations. Both performers are damn good – and The Miz is without a doubt at the top of his game right now – The end to this mateh was clever and protected the characters of Miz & Mayrese along with giving Zayn a credible excuse for losing the match. The underlying baiting of Daniel Bryan is still interesting. Are WWE going to give him a one off match? Will they clear Bryan? His admission that he could change his style on Total Bella's shows he can move without getting dumped on his head/neck. Will they do a loser leaves the brand, (conveniently in time for D Boy daddy duties)? Lots of milage in this.
The tag match was a fair mess. Quick eliminations of Breezango (fair play) and New Day (what?) wow fairly pointless. The superstars of the tag division, American Alpha are treated like A N Other tag team when they are far superior. Their elimination was an anti-climax. Gallows & Anderson have lost major steam too and need to pick up fast – or just rejoin AJ in The Club. Uninspiring.
Crusierweight title v division? The Cruisers aren't working. They could do, but they aren't. Baron Corbin's involvement, meh. Lets hope 205 Live helps the division out.
Raw v Smackdown mens match is up next and not surprisingly the longest of the Survivor's matches. Owens and Jericho understandably getting the massive hometown reaction and they shone in the match. Owens action in and out of the ring and also Jericho's mad rantings, especially at Ambrose telling him that he owed Y2J $15000 for stuff he broke in their feud. Its the little details.
Super Cena seems to have a new threat and that is Super Shane. From Otunga calling him "team Smackdown's MVP" to the decision from the ref to stop the count after Reigns speared the hell out of him, Shane O'Mac is indestructible. What are the odds he'll be doing the shuffle dance on Tuesday night with no ill effects? Ridiculous really.
The seeds of a breakdown between Owens and Jericho were planted nicely. Owens use of 'the list' to get DQ'd and Jericho flipping out collecting it before his elimination was clever, surely this will be furthered on Raw. Also I hope that Ambrose will get reprimanded in a similar way to Corbin. His mini Shield reunion cost AJ and Team Smackdown. D Bry should be fuming.
Good action down the stretch and the Wyatt's winning gives Bray and the boys a boost. Bray finally has a massive win. Good on him.
Now the controversy. Goldberg v Lesnar. Fantasy warfare just got REAL. Ahead of the match, Paul Heyman predicted this will only be a two minute match. He was 30 seconds out. Nothing to describe, but Goldberg wrecked Lesnar. So is there a follow up on Raw? There's no 'rubber match', Goldberg is two up. Where does this leave Brock? He's not invincible is he? Well not anymore, so getting the 'Beast' to put over a talent like Samoa Joe or Nakamura in the future has lost some shine. As a TV moment and a talking point, the 90 second Goldberg win has got Twitter ablaze, but what's the plan? Where does this go? Lesnar needs to freshen the act up a bit now to move forward. Its a real worry for WWE. Was this short term winning without a view of a long term loss? Lets see.
Below are the things that need to be addressed on Raw and Smackdown:
RAW:
1) The mens team lost. Stephanie said jobs depended on it, so what will she do?
2) Owens and Jericho need couples therapy
3) Position the cruisers better
Lesnar and Goldberg need a confrontation of some kind
4) Will the SHIELD repay the favour to Dean in two weeks?
Smackdown
1) D Bry NEEDS to be angry at Corbin and Ambrose. Punishment for both
Give American Alpha a massive win en route to the tag titles
2) Find The Miz a new opponent, one who is sneaky enough to keep up with their tricks
3) Give the Undertaker a watching brief. He put the fear in the roster, keep this up
4) No Shane O'Mac. He should be in the hospital.